OFFG. PRINCIPAL'S MESSAGE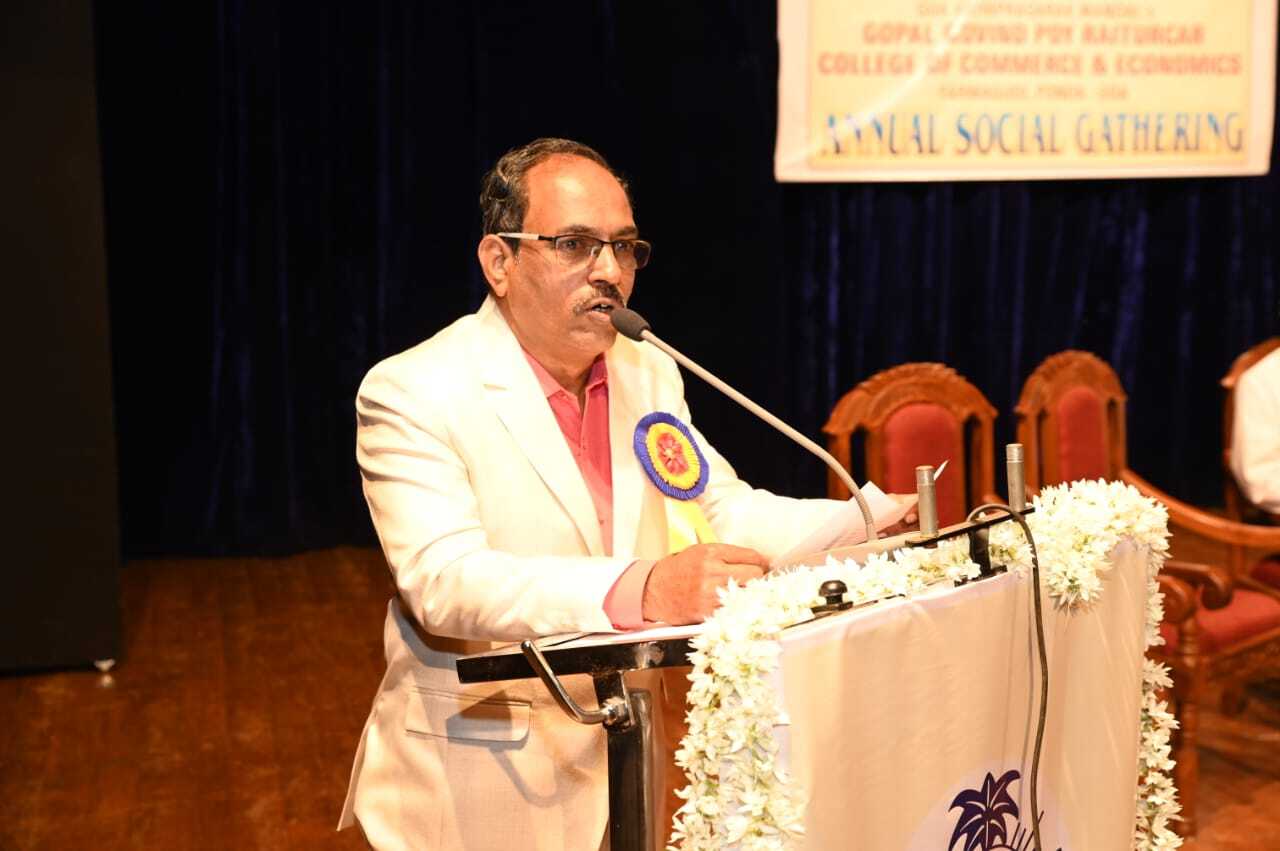 The second term for the Academic year 2022 -23 began from 2nd January 2023 . Apart from regular lectures several other activities were organized in this couple of months. Some important activities which were organised are –
Start–up Yatra was organized to create awareness about State's initiatives on Start up and innovation.
Pop–up Bazaar "Flash Retail" by M.Com department to give exposure to marketing skills of the students.
The department of sports organised First GVM College Cricket Premier League, in the lines of IPL for students and staff members.
Fun Days under the name "Kaushalya 2.0" were held in the second week of March 2023. During Fun – days various competitions were also organised.
The college also organized First State Level Dead Lift Competition for Men & Women.
Our students also participated in various inter – collegiate competitions and have won trophies / prizes etc. Just to name a few – Revelations, Arena, Sanshodhan 5.0, Passonic 2023, Anusandhan, Anantara, Goa Police Hackathon, Inspirus, Colossus, Spectra, Cephus 23 etc.
The much awaited Annual Social Gathering was held on Saturday 18th March 2023 at Rajiv Gandhi Kala Mandir, Ponda. Dr. Bhushan Bhave – Principal of Vidyaprabodhini College of Commerce, Education, Computer & Management, Porovorim, Goa was the Chief Guest for the Annual Social Gathering. Dr. M.M.Chikodikar – Off. Principal, briefed the audience about National Education Policy 2020 and then presented the Annual Report of the college for the year 2022 -23, which highlighted the activities undertaken by the college. Dr. Bhushan Bhave felicitated the staff members who completed 25 years of service in the college. It was followed by Prize Distribution to the students at the hands of Dr. Bhushan Bhave as well as Shri. Anand Jog – Chairman, PTA Committee. Dr.Bhushan Bhave in his speech highlighted the changing scenario in the higher education system as well as NEP 2020. The other dignitaries who were present for the Gathering were – Shri. Krishna Shetye – Chairman, Working Committee, GVM, Shri. Ashok Nagvenkar – Vice –Chairman, Working Committee, GVM, Shri. Jayant Mandurkar – Secretary, Working Committee, GVM, and Dr. Pravin Bhende – Ex- Principal, GVM's GGPR College. After the formal function, there was a Variety Entertainment Programme. I am thankful to all the teaching and non – teaching staff for their cooperation in conducting the Annual Social Gathering in a smooth and efficient manner.
WISHING YOU ALL A HAPPY GUDI PADWA.
Date – 21st March 2023.