Last updated on September 9th, 2022 at 03:10 pm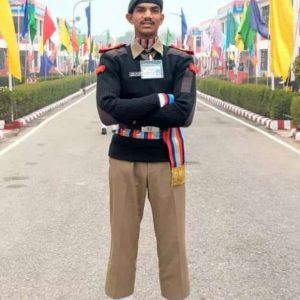 I am deeply saddened by the sudden loss of our beloved student Mr. Aman Chaurasiya who succumbed to the injuries of accident that he met with a few months ago. He was really a committed and an ambitious NCC Cadet who had achieved laurels in short span of time. He was the First NCC Cadet of our college who participated in the Republic Day Parade on 26th January 2022. @ New Delhi. Aman was one of those distinguished Cadets who was awarded a Golden Award in the rank of Senior Under Officer and also a Medal at the hands of the Honourable Prime Minister, Shri Narendra Modiji on 26th January 2022.  We are missing the presence of the truly lovable NCC Cadet – student on our campus.
I hereby extend deepest condolences to the bereaved Chaurasiya family in their present sorrowful times, and I pray that the Almighty bestows upon the family members enough of courage and strength to face the challenging phase of their lives.
Dr. M.M.Chikodikar
Offg. Principal