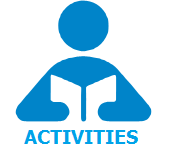 Book Display: New books are displayed on the new arrival stand.
Thematic Book Display: Every month books from the Library collection on a certain theme are displayed in the Library.
Book Exhibitions: Two book exhibitions are held in August and January every year by reputed book sellers for the benefit of students and staff.
Readers' Club: Various competitions such as book reviews, poetry, elocution, etc are organised. Members get one book (non-academic) loaned for one month.